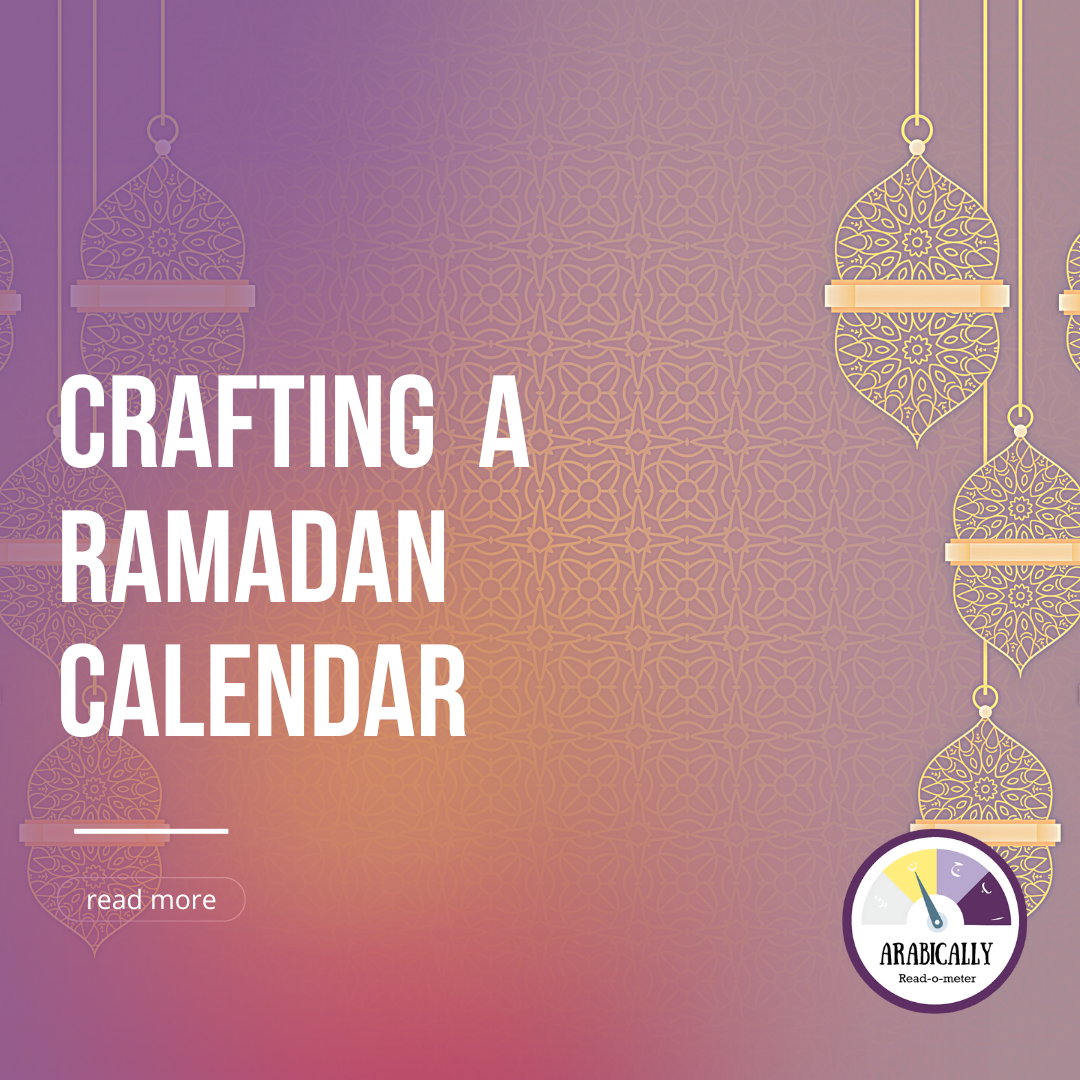 Crafting an Arabic Ramadan Calendar
Vocabulary is key to learning Arabic! With a good range of vocabulary, you can start to speak and understand Arabic without worrying about grammar. How can we instill a love for Arabic through crafts? Below we have crafted an activity that incorporates relevant vocabulary. This can be a great addition to your Ramadan Basket.
Let us make our very own "Ramadan Arabic Calendar". It's a simple and fun craft that you can set as a challenge to learn 30 new Arabic words—one word for each day of Ramadan.
Things you may need: 
A3 card 
Paper cut into 30 — 8cm x 4cm rectangles
Star stickers
Colorful pens 
Anything you like decorating with; e.g. Glitter, feathers, sequins, tissue paper, etc.
Process:
Step 1: The A3 card is the base. Add the title 'Ramadan Arabic Calendar' and decorate the card however you like. Then you will need to choose 30 new words that you want to learn; for example moon, night, dates, etc. If you want more examples of Arabic words, have a look at our page with different themed vocabulary.
Step 2:  After that, fold the cut-out rectangles in half. On the inside, write the words you have chosen; on the outside, number them from 1 to 30. Arrange them in the order of your decorated card, so that you can see the number, and the word is revealed when you lift the number up. 
Step 3: Close the fold and seal the tabs using your star stickers, half on the tab and half on the decorated card. 
There you have it! 30 new words to be revealed each day of Ramadan and memorized towards the end of it. After one month you 
will know 30 new words that you can start using immediately.
————————————————————————————————————————
This blog post was contributed by Jeel Arabiya.
I'm Sabriya from Jeel Al-Arabiya. I never had the opportunity to learn Arabic as a child and was adamant that I would break the cycle with my own children. The first step I took in teaching my children to be fluent in Arabic was to read their books in Arabic daily. Once I saw how much of an impact it had on my children I knew I could inspire other mothers to do the same. That is why I started an Arabic playgroup, not only to teach children Arabic but to inspire mothers because they are the keys to their children's success.
If you are based in Birmingham, UK, or the surrounding areas and would like to join their Arabic Playgroups, send them a DM here.
If you are an Arabic -related venture and would like to contribute to our blog series, send us a shoutout on Instagram.
You can follow our upcoming Arabically Events here.