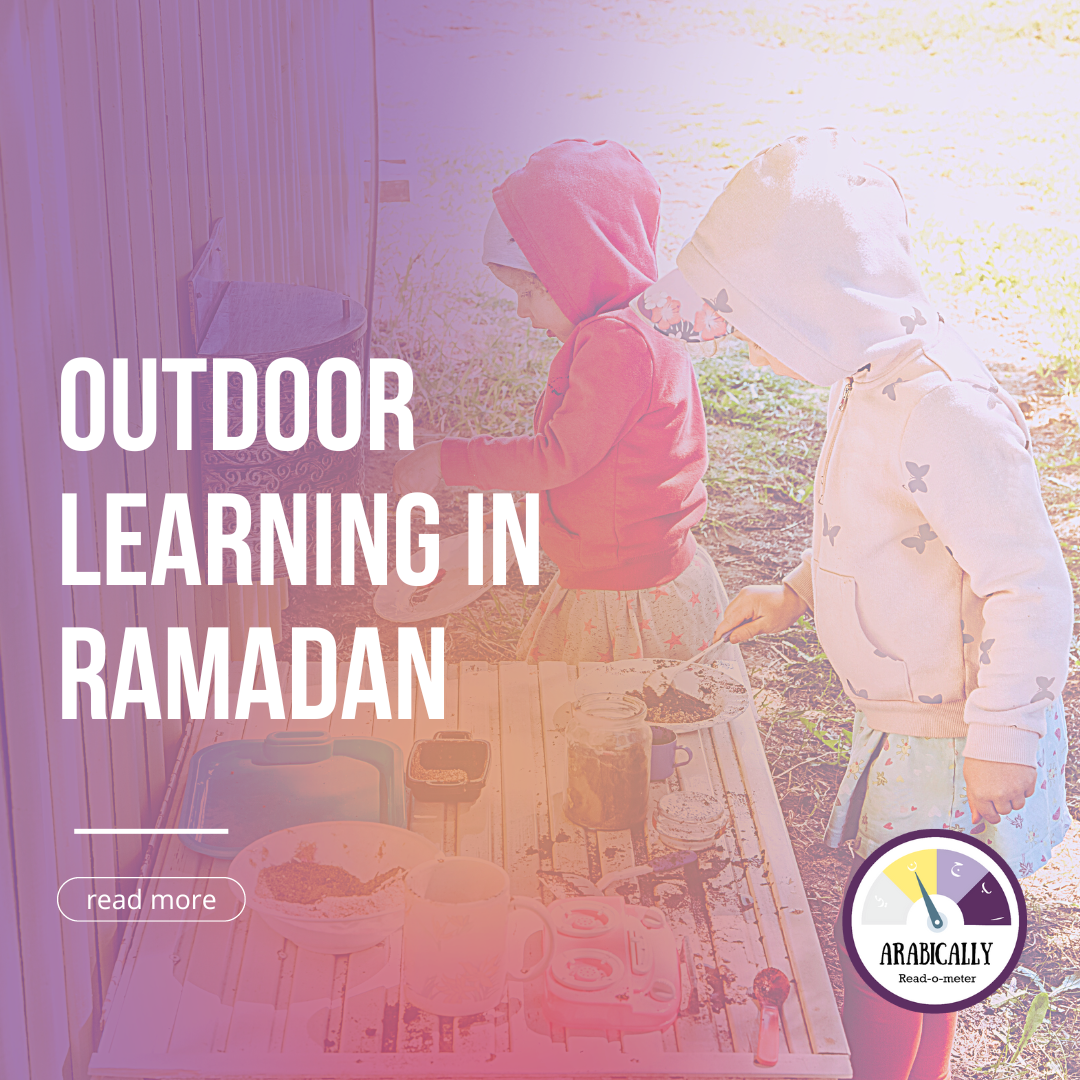 Incorporating Arabic with Outdoor Learning for Children
Here are two fun outdoor learning activities that can be combined with Arabic, and work for a  variety of ages 
1) Hide and seek: 
This is a more team-based version of traditional hide-and-seek. Predefine the boundaries for how far kids can hide (please risk assess your own personal situation). 
The children hide together in small groups and The Seeker shouts: 
"١ ،٢ ، ٣
اين انتم؟
The group who are hiding shout back: 
"١ ،٢ ، ٣
!نحن هنا
The seeker can then follow the sound, and everyone he or she finds joins him in seeking out the rest. 
It's a basic game with minimum Arabic input but it's so fun that the children won't forget this vocabulary if they don't know it already. If they already know this vocabulary, then they will forever have this positive memory associated with the Arabic language. In neuroscience it is said "neurons that wire together, fire together", meaning that when we experience two things together (e.g., getting ice cream after a swimming lesson), we start to associate these things together. Not only that, but a  child's brain starts to expect one to follow the other. So, if your child has a fun time whilst they are speaking or listening to Arabic, they will associate Arabic with fun! 
2) Good old-fashioned nature walks:
Walk at the children's pace, and let them explore, stop, examine, and collect things to their heart's content. Children are born scientists! Allow them to focus on whatever grabs their attention for as long as they want. The more often children can practice this type of focus, the more this skill develops. 
You can use all the relevant Arabic vocabulary and conversation that you have on your nature walk,  e.g., make observations on your surroundings. Even if you only talk about the colors of items or ask how many rocks your child has collected. No amount of Arabic input is too small.  
The examples I've given are very simple and far from elaborate, but that is the entire point. The benefits of outdoor learning are so vast that even the simplest outdoor activities paired with Arabic can enhance your child's learning.  
With regard to incorporating Arabic in outdoor learning during Ramadan, there isn't a one size fits all approach. It is possible, or even preferable to go at a very slow pace – even more so during Ramadan. During this time of fasting, you may choose to focus more on the mindfulness aspects of outdoor learning, such as with nature walks. Focus on fully immersing your child and yourself in your 5 senses, walking barefoot, smelling plants, feeling various textures, and collecting and examining treasures.
You could also choose to focus on Tawheed (Islamic Monotheism), in your outdoor learning in Ramadan, via the names of Allah, relevant verses of the Quran, and more. 
I really cannot overemphasize that the beauty of the benefits of outdoor learning is in its simplicity, even more so if outdoor learning is paired with the focus on God consciousness that comes with Ramadan. Release all expectations and pressures and simply enjoy time outdoors with your child, use as much or as little Arabic as you have at your disposal, and marvel at the beauty and wonder of Allah's creation.
I hope you enjoyed this article and that you have many fun-filled days outdoors with your little ones, wherever you are in the world. 
Happy playing!
---
Blog post by: Hana Hersi from Sprouts Arabic Montessori
My name is Hana Hersi, I'm a mother, an Educator, and a Digital Education research student – and I run Sprouts Arabic Montessori playgroup in Cardiff, South Wales.
At Sprouts Arabic Montessori Playgroup We provide a holistic, play-based language immersion setting for children in the Early Years. We aim to develop a positive relationship with the Arabic language for children, by making learning fun.
I am extremely passionate about Early Years Education and I love spending time outdoors! The Forest School training that I and my colleagues at Sprouts Arabic Playgroup completed, has encouraged me to become a champion for combing Arabic with outdoor learning. Learn more about here work here: Sprouts Arabic Montessori
.
.
,
,
,
Arabically had the opportunity to organize an " In Nature Program" in Dubai earlier this year. You can learn more about our Signature Program here: https://arabically.com/events/
You can also catch a glimpse of it here: https://www.instagram.com/reel/Cnm6GduhTcO/