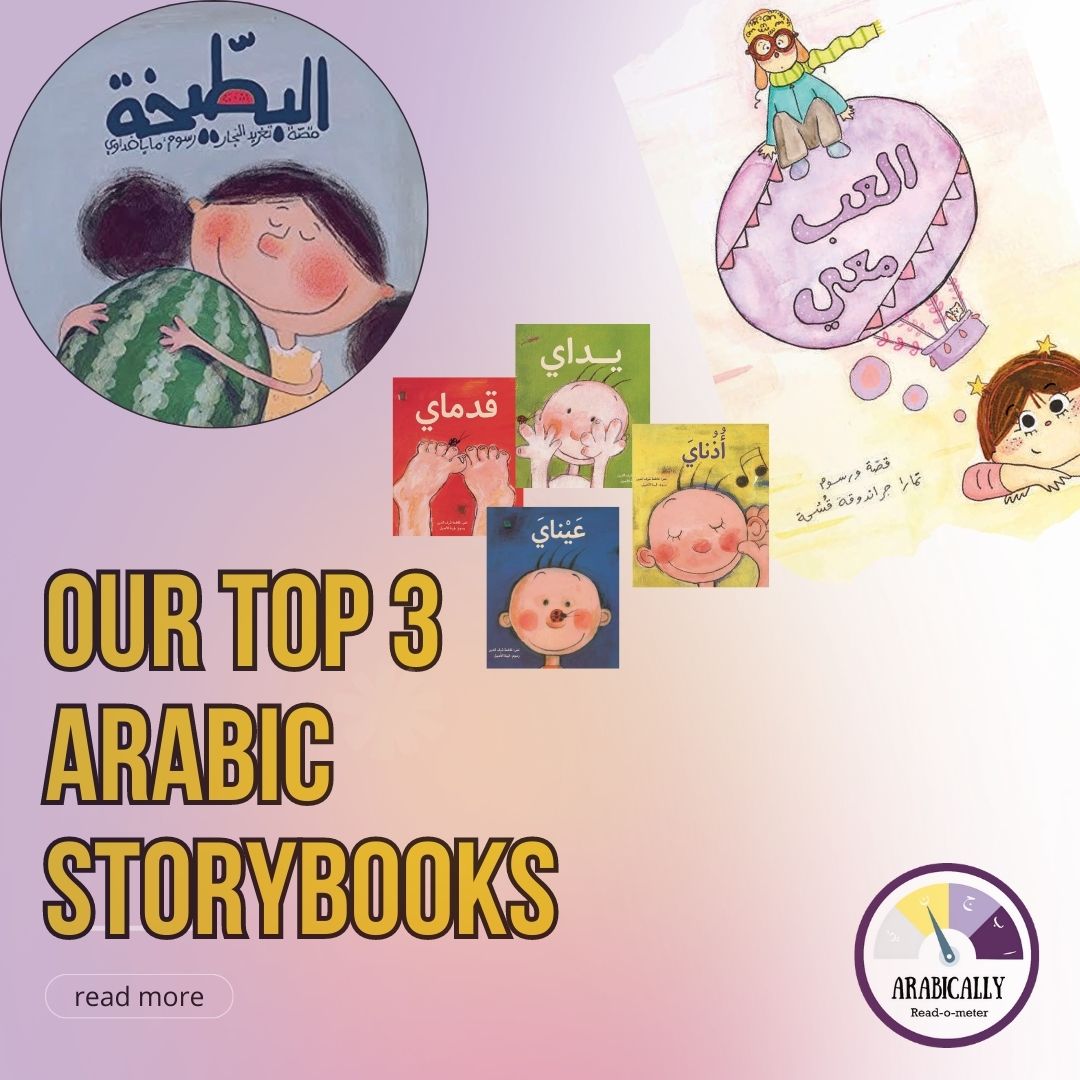 Arabically's Top 3 Arabic Storybooks
Storybooks are a powerful way of communicating ideas; stimulating curiosity and sparking a child's creativity.  Learning through stories isn't just effective, it's also much more enjoyable and engaging. However, how do we incorporate storybooks in a second language or a language we are not very comfortable with?
When it comes to Arabic storybooks, non-Arabic-speaking parents often find it overwhelming. Do we choose based on age, content, or author? 
As a rule of thumb, any resourceful storybook should have a fascinating storyline. Does the language it is expressed in the matter? Yes, it should appeal to the child's imagination. To make things easy for our Arabic-loving community, we have gathered our favorite storybooks, which we have benefited from over the last few years.
1. البطّىخة
"The Watermelon" is about a little girl named  Noora who loves watermelons with all her heart, but after hiding a watermelon under her bed she goes on a strange yet exciting trip inside a watermelon, a dream come true you would think, but a fun twist has her realizing that too much of anything is actually harmful to our bodies. With a vividly engaging storyline coupled with beautiful illustrations, this book has it all.
Head to Al Salwa Publishing to get your hands on this one. It is usually sold out so if you see it, take it and buy one extra one to gift.
——-
2. إلعب معي
This book has our heart.  "Play with Me" tells us the story of Salma, who is a little girl living in a refugee camp, despite living in harsh conditions, and dealing with displacement and poverty, the story highlights how a child's creativity and imagination can indeed spread happiness no matter the circumstances.
Al Yasmine Publishing always has amazing storylines which are perfect for emerging readers of Arabic. Native or non-native, doesn't matter.
——-
3.  يدا ي، أذُنا يَ ، عَيُنا يَ ، قدما ي
This series is ideal for children who are beginning to explore the world with their senses. These board books are highly relatable to young children and enjoyable. The use of repetitive phrases makes this a top pick for young learners.
This collection was one one of the first books we came across from Sharjah-based Kalimat Publishing. Support local by investing in these.
These stories encourage cultural appreciation; magnify the beauty of the Arabic language and are our top recommendations for this year.
We all understand the need for reading storybooks. We do it all the time in English because they are affordable and accessible. The secret is in buying a few good books, than several books which the children have no inclination towards. Join the Arabically Community for more tips, events, and webinars as we spread the idea of making Arabic Literacy open to all. 
You are just in time for our annual Arabically Community Webinar on June 23, 2023, at 5 pm UAE time. Register for this kickstarter session on Family Arabic Literacy this summer.
---
Blog post by: Team Arabically
.
.
.
.
.
.
.
.