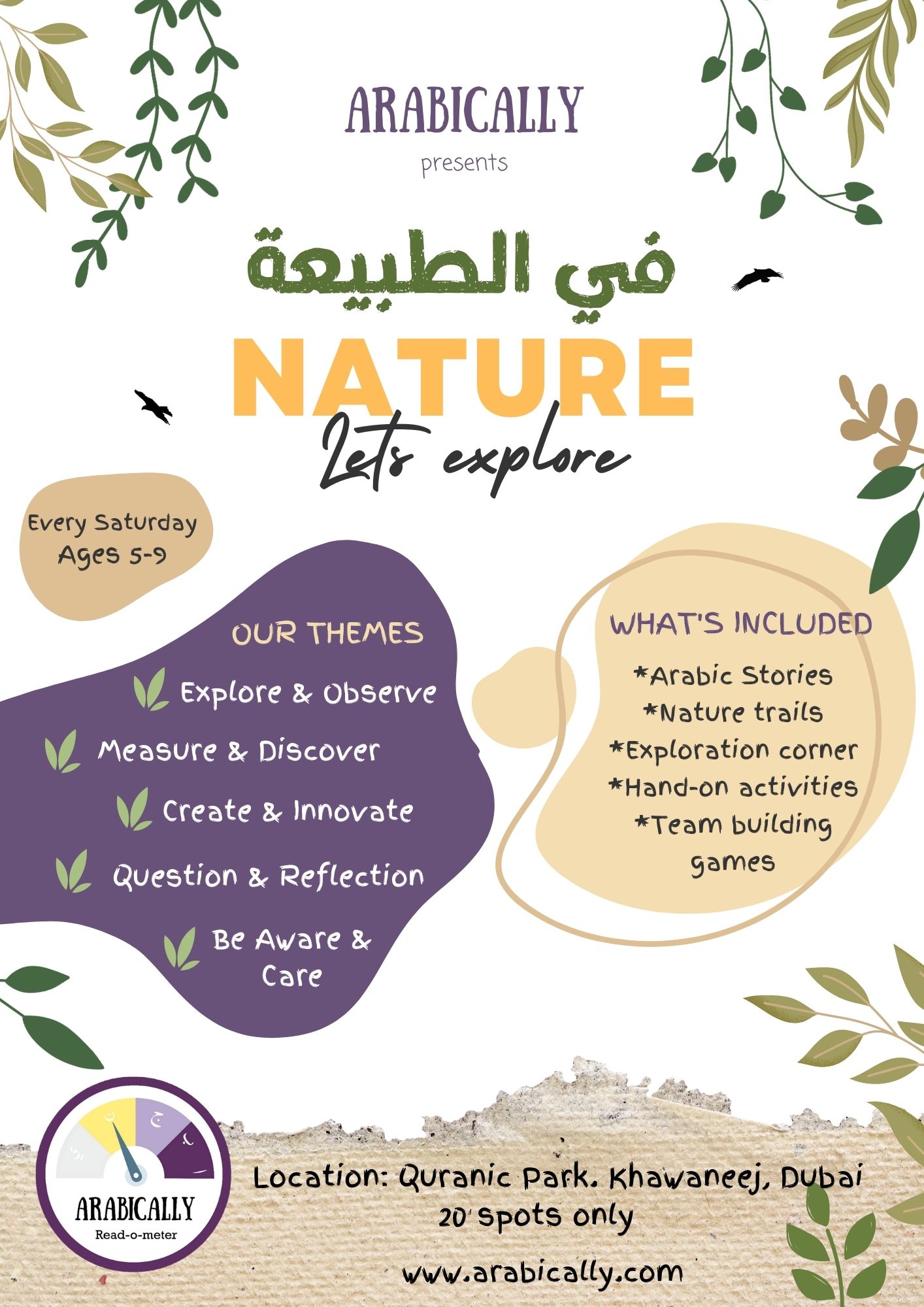 In Nature Program/في الطبيعة
Arabically is a hybrid community of Arabic-loving families. A revolutionary and adaptive platform, challenging traditional ideas of connecting with Arabic.  We are redesigning the way non-Arabs connect creatively with the Arabic Language by offering meaningful Arabic language learning experiences beyond classrooms (www.arabically.com).  We work closely with families interested in enhancing Arabic Learning experiences in the UAE as well as globally through our online programs.
*'في الطبيعة'-In Nature*
*A 5-week in-person program in the heart of Dubai, United Arab Emirates*
Arabically brings you an exclusive Language-in-nature program. Exploring nature through reflection and exploration, this program will give your children an excellent start to 2023. Nature trails, treasure hunts, questions and hypotheses, messy play, hands-on activities, games, and stories. We've got it covered!
Our Themes
 -Explore and Observe
 -Measure and Discover
 -Create and Innovate
 -Question and Reflection
 -Be Aware and Care
Have you always wanted your children to learn Arabic in a holistic, inquisitive, and engaging way?
We're taking your wish to another level, Arabically is integrating Arabic through (Thinking) تفكُّر and (Pondering) تأمّل in nature.
All our sessions are specially crafted and curated for non-Arabic speaking children.
Our nature program will run for 5 weeks, Every Saturday, from 10:30 am-12:00 pm at the Quranic Park, Al Khawaneej, Dubai. Ages: 5+ yrs
Registrations have now closed for the January 2023 Nature Program.
Register your interest in the next Nature program by joining our waitlist: Join our waitlist here