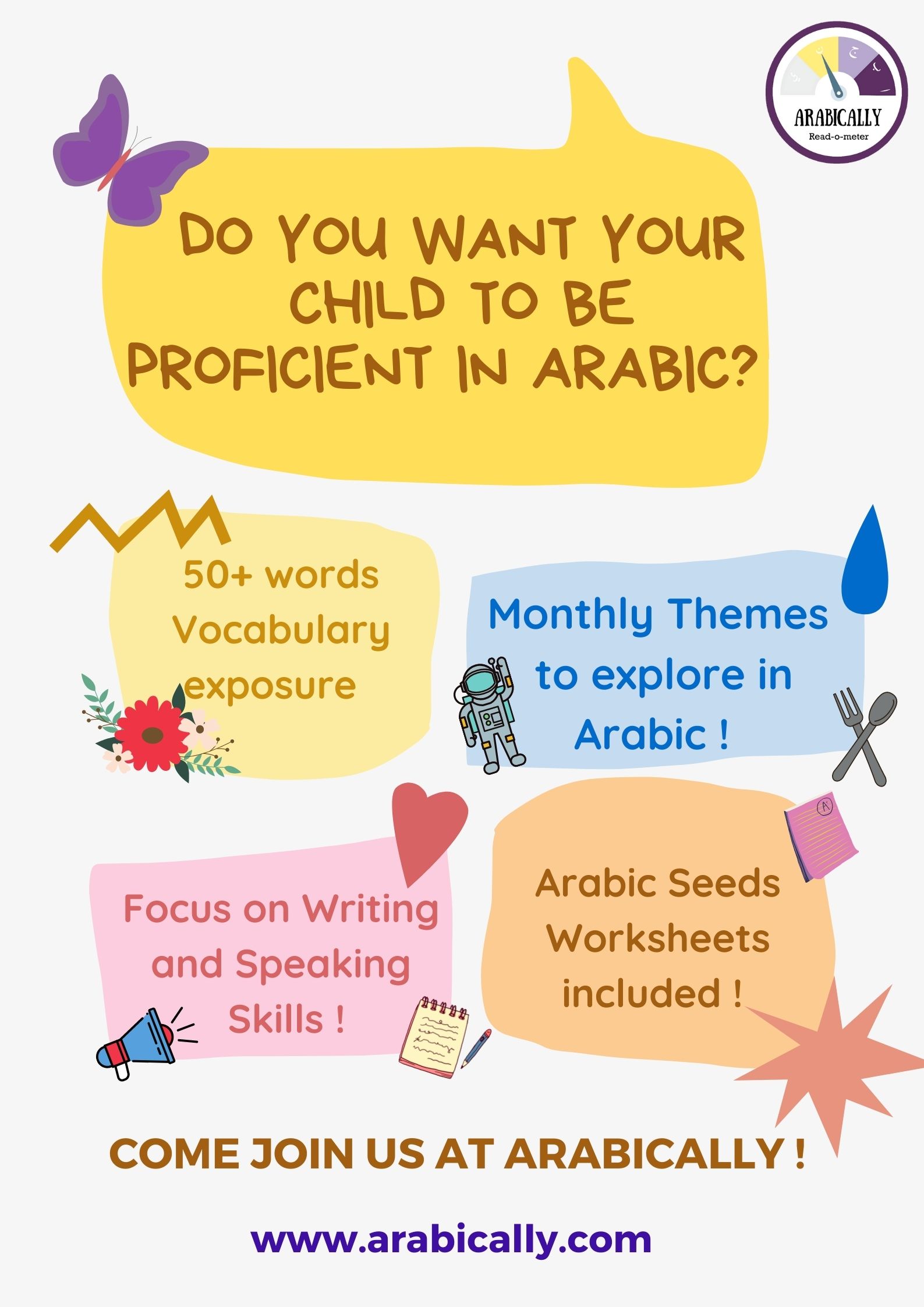 Arabically Pod 2022
Arabically brings to you a 3-month program, to help your children practice the Arabic Language by interacting and working in groups online. T
We get you! Language Learning needs two essential things
1. Focus on communication skills
2. Learning in context
Each month, in the first three weeks, we train them to familiarize themselves with the theme of the month, infuse real-life learning situations and build their confidence to use the language. Towards the end of each month, students will have the option to present their work as a submission or a live presentation (Based on the track you choose).
We will be running two exciting tracks, giving you and your child an appropriate lab to choose from.
Materials: Arabic Seeds Worksheets and Content, Storybooks.
Overall Objective: Improve "Oral Communication and Understanding" in Arabic.
Please fill out our interest form by clicking on the form below:
———————————————————-
Self-Directed Arabic Pod
Price: 200 dirhams/month
Schedule: 3 sessions + 1 Demo Day
Time: TBD
Days: TBD
Skillset required: Can read 2/3 letter words in Arabic independently.
Material: Arabic Seeds Worksheets only/-
Find our more about each pod here: https://arabically.com/product-category/speaking-pods/
Project-Based Arabic Pod
Price: 300 dirhams/month
Schedule: 3 sessions + 1 Demo Day
Time: TBD
Days: TBD
Skillset required: Can read 2/3 letter words in Arabic independently and want to build a project each month.
Material: Arabic Seeds Membership included /-
Find our more about each pod here: https://arabically.com/product-category/speaking-pods/